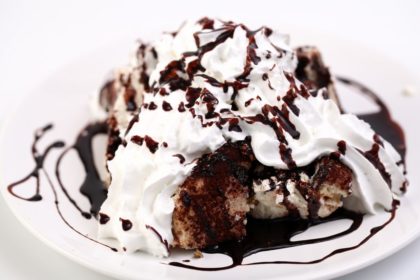 Amazing Somloi Galuska is one of the most famous Hungarian desserts.
It was first made for the World Exhibition of 1958 in Brussels by Jozsef Bela Szocs. It won the professional price and became very popular all over Hungary. The confectioner gave the name to the cake, which comes from the name of the hill, Somlyo, where he lived and worked.
According to the surveys, Somlói Galuska is the favourite cake of Hungary.

The original recipe mentions 3 kinds of sponge cakes: one plain, one with cocoa and one with grounded walnuts. The cake contains 3 sauces as well, vanilla, chocolate, and a rum-orange zest flavoured one. The sponge cakes are layered with raisins and the fillings. The cake is served in bowls and topped with whipped cream.