NYE Dinner and Party in Symbol Budapest
---
Buy Tickets
Buffet dinner with unlimited drinks then party at Symbol Budapest till dawn.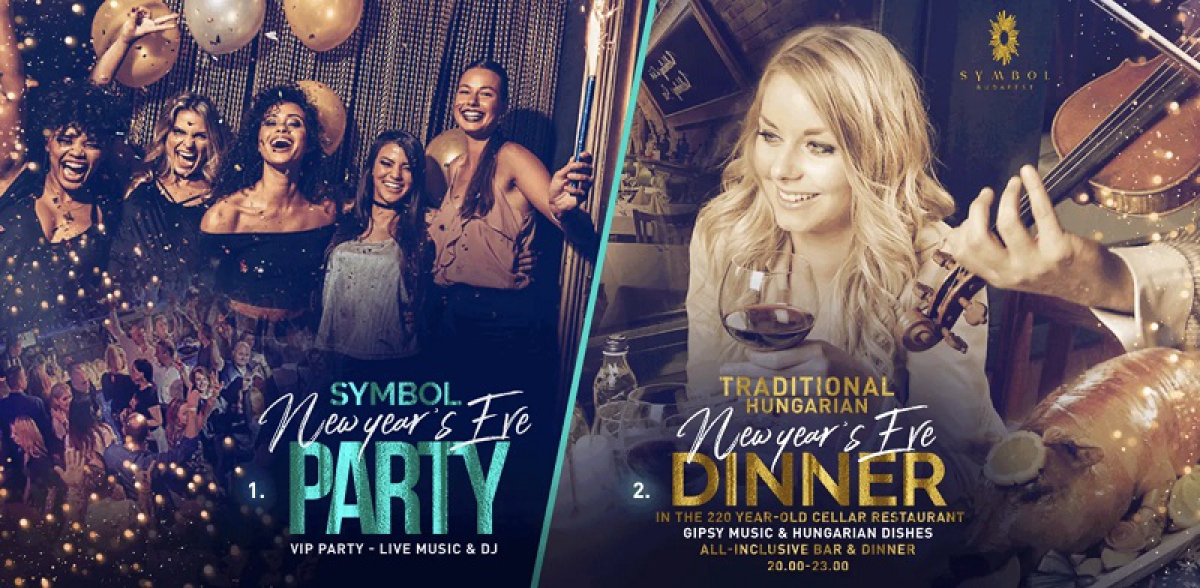 Come and feel the atmosphere of a 220 year old wine cellar, where the walls tell you the stroy of an age when the dining was a real ritual. The place and the delicous buffet dinner will affect you and you will not forget this night.
The buffet dinner is between 20:00 and 23:00 followed by live gipsy music. During this time the drinks are unlimited.
After 23:00 you can join to the New Year's Eve party at Symbol dancefloors.
Tables will be shared by other guests.
Access only possible with the valid security restrictions, only with EU digital Covid card/certificate.
Admission is only over 18 years old persons with valid identity card or passport.
Guaranteed money payback if the program will not be held because of the epidemic situation.
Menu
Entrées
Aged ham with egg tartar on baby salad (gluten free)
Chicken breast with mushrooms and baked paprika (gluten and lactose free)
Smoked macrel with potato and beetroot (gluten and lactose free)
Fresh salad with roast camambert and blueberry (gluten free)
Soup
Dill flavoured duck ragout soup with lemon and sour cream (gluten free)
Sweet potato cream soup with pear (vegetarian )
Main dishes
Turkey roll with pumpkin fill and celery potatocream (gluten free)
Slow baked goose leg served with onion mashed potatoes, champagne cabbage (gluten and lactose free)
Roasted beef with parsley flavoured vegetable stew (gluten and lactose free)
Slowly roast pork with rosemary apples and baked potatoes (gluten and lactose free)
Roasted peppers stuffed with vegetable rice (vegetarian, gluten and lactose free)
Dessert
Coconut flavoured chocolate cake with currant couli Bluberry mousse with oat in glass
Dried peach cottage cheese cake
Chestnut flavoured white chocolate cake
Midnight buffet
Mini stuffed cabbage with minced pork (gluten and lactose free)
Sausages (gluten and lactose free)
Aperitif
1 glass of Hungária Extra Dry champagne
Pálinka
Orange juice
DRINKS
Haraszthy Irsai Olivér 2020
Béla és Bandi Sauvignon Blanc 2018
Gere Tamás Villányi Rosé 2020
Gál Tibor Egri Pinot Noir 2017
Günzer Tamás GT 50 2016
Dreher beer
Coca-Cola, Coca-Cola Light, Coca-Cola Zero, Tonic, Fanta Narancs, Gyömbér, Sprite
Juices: peach, apple, orange, pineapple
Mineral water
Coffee, Tea