New Year's Eve Boat Cruise with Dinner (Europa boat)
---
Buy Tickets
One of Budapest's biggest New Year's Eve parties, on Europe's largest event ship!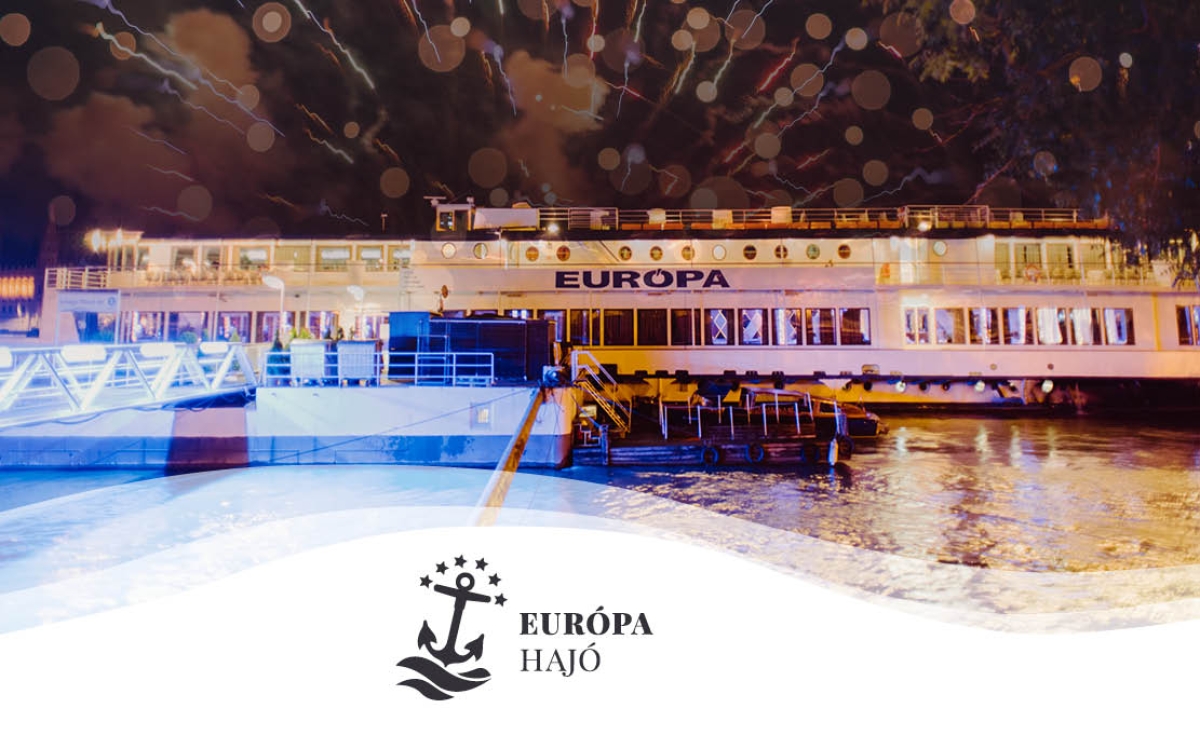 Delicious Dinner, All-inclusive bar and the unforgettable Budapest Panorama from the middle of the Danube! Welcome the New Year on board – by the most imposing way, in the heart of Budapest, on the waves of River Danube.
The ticket includes:
– Buffet dinner (all you can eat, please buy the ticket corresponding to your selected menu)
– Unlimited drinks
– Midnight menu
– Live music (Party One Music Band)
Program:
19:00 – 20:00 Gate opening – Boarding
20:00 – 21:00 Start of dinner
21:00 – 22:30 First setting sail and sightseeing
23:30 – 01:00 Second setting sail | welcoming the New Year on a cruise along the river Danube
00:00 – 01:00 Toasting the New Year | Midnight Menu on a buffet table
02:00 Event ends
Meeting point:
1011 Budapest, Jégverem street boat port
47.5004896439572, 19.040770098104804
Time: 2023.12.31
Please note that after booking the tickets cannot be cancelled.
Private tables not guaranteed, it means tables mostly will be shared with other guests.
The price is per person.
Please buy that type of ticket which menu you want to consume on the event!
New Year's Eve menu
"A"
Amuse-bouche with quince chutney, pork terrine, salted butter, sourdough bread
Cheese salmon roll, with pickled beets, horseradish mayonnaise, smoked trout
Veal goulash with citrus greens
Braised beef cheek, sous-vide foie gras, shallot and onion gratin potatoes, with pumpkin puree
Dessert: Chocolate cake with raspberry coulis and orange jam (on a plate)
"B"
Amuse-bouche with quince chutney, pork terrine, salted butter, sourdough bread
Cheese salmon roll, with pickled beets, horseradish mayonnaise, smoked trout
Veal goulash with citrus greens
Chicken breast rolled with goose pate with porcini mushrooms, caramelized pears colored with red wine, gratin potatoes with shallots and pumpkin puree
Dessert: Chocolate cake with raspberry coulis and orange jam (on a plate)
"C"
VEGAN MENU
Transylvanian eggplant cream, quince chutney, marinated tofu and sourdough bread
Cucumber ravioli with pickled beets and beluga lentils
Celery steak with pumpkin puree, roasted portobello mushrooms, marinated garlic and red wine sauce
Dessert: Thai milk rice with mango (cup cream)
Midnight menu
Vegetarian lentil soup
Viennese crunchy frankfurter and Debrecen sausage with creamy horseradish and mustard
Transylvanian mini stuffed cabbage with smoked meat
Fruit bowl
Unlimited consumption from the following drinks during the whole event:
Wines
-Hilltop Neszmélyi Premium Sauvignon Blanc
-Bárdos Pinot Grigio
-Gere Portugieser
-Juhász Egri Paptag Cuvée Superior
-Juhász Kékfrankos Rosé
Champagnes
-Champagne sweet, dry
Soft drinks
-Carbonated soft drink (Pepsi products)
-Fruit juices (Toma products)
-Szentkirályi mineral water (carbonated and non-carbonated)
Beers
-Dreher, Dreher Bak, Dreher non-alcoholic
Dreher (on tap)
Hot drinks
-Tea
-Segafredo coffee variations
If you are looking for airport transfers or for the New Year's Eve, please check our offer on our website, offering Budapest programs every day of the year: Todo Budapest