Budapest Events on New Year's Eve
You don't know yet where to spend New Year's Eve? We will show you what you can expect in Budapest. The best guide for New Year's Eve Budapest 2018! 
New Year's Eve Budapest 2018
---
SYMBOL Budapest NYE Party & Dinner
One of the most exciting ways of spending NYE in Budapest would be an opportunity that is colourful, unique and unforgettable. The location is the Symbol Budapest Club, Bar & Restaurant, that means quality entertainment and service since decades in the capital.
The night will begin in the 220 years old cellar, where an unlimited amount of traditional Hungarian food & drinks are being served from 8pm. This will go on until 11pm, with extra care on focusing the quality of the items. In order to make sure that the mood is authentic, there will be gypsy music around the room.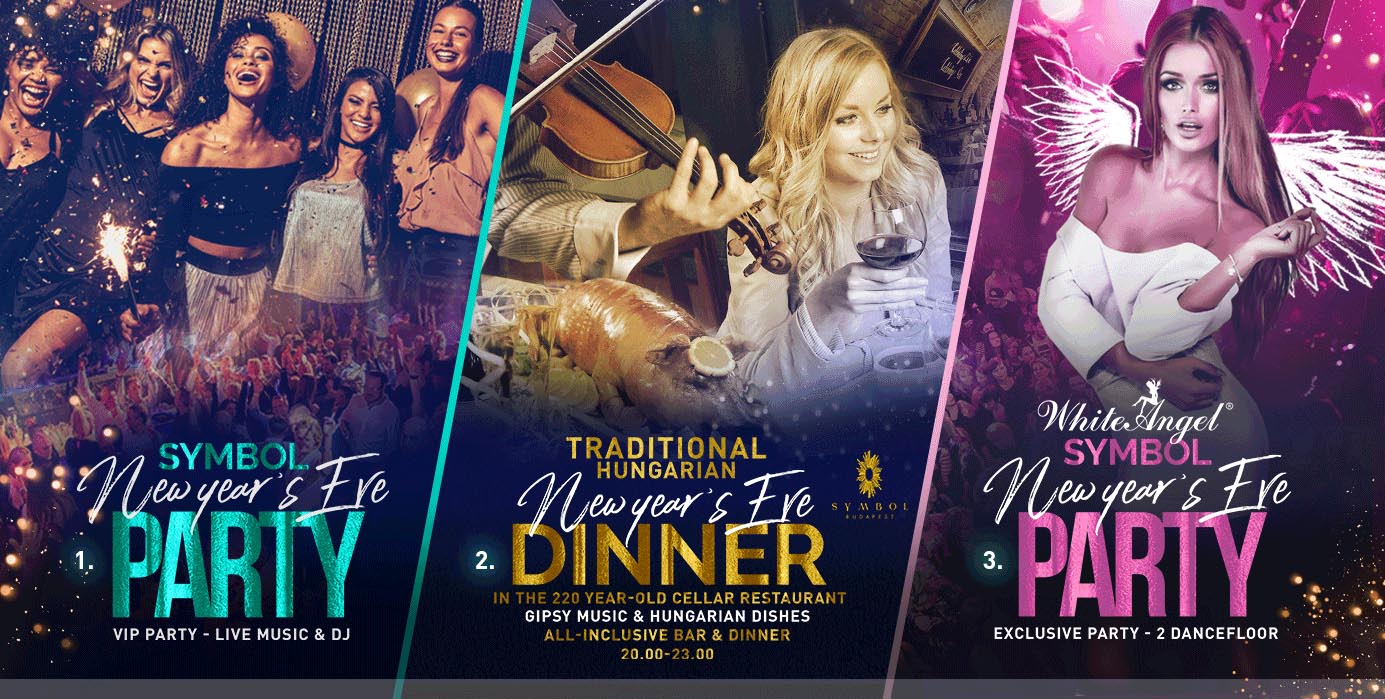 Step on the deck in the final hours of the year and leave the ship in 2019. The party will have retro vibes all over the place, since the dinner reception closes with tunes from the 90s and the 2000s. The good mood is guaranteed for everyone, be it couples or groups of friends. And of course, you will also have the perfect spot to look up and check the fireworks above the river and the city. Truly a remarkable view! – Budapest Events New Year
Budapest SWING JAZZ FUNK New Year's Eve
Following the pre-NYE party, the Panorama-room will welcome you again in Bálna with a jazz concert. The show will include so called "Hungarian Michael Buble" – Bálint Gájer, the Catsby Band, playing in the style of Parov Stelar and Eliza Bliss, who performs well-loved songs on her electric violin. After these musicians, DJ Tégla and DJ Dave-S will spin the biggest soul, pop, RnB, funky and jazz tunes until the end of the night.

Hungarian Cuisine and Folklore NYE
People who choose to celebrate the New Year's Eve at the famous Márványmenyasszony can expect unprecedented vibes. The more than 200 years old restaurant offers folklore style dinner for the lovely guests. In the past, prominent figures such as Baron István Széchenyi, Zsigmond Móricz and Dezső Kosztolányi have chosen this place as well. During the night, you can expect traditional Hungarian cuisine with great wine, thanks to the head chef of the restaurant.
Clubnight in Club Liget – Playboy Endless Night New Year's Eve Party
The biggest party of the year is here with the craziest and sexiest people in town. If you are looking for a place to go nuts, then this is your place. Welcome the new year in the most prominent night club in Budapest, in Club Liget with 4 dance floors and 15 DJs.